Home staging in comfy style
What I wear now to do my job as a home stager is so different from what I wore as a magazine editor. I've learned over time what is comfortable for staging days. It needs to be lightweight and breathable (it's often sweaty work), but still look polished. During a staging job we are lifting bins filled with home accessories, hefting large and small pieces of art, mirrors, lamps and bags and bags of pillows, bedding and towels, into and out of vehicles. Not to mention the work of carrying these same items up and down flights of stairs, across loading docks, into and out of elevators–it is very physical work.
But there is also always the chance you will be running from a staging job to a consultation or a meeting with a potential client and you need to look polished.
That's why I love these Jet Crop Slim pants ($98) below from Lululemon for home staging days. They are cropped andfitted at the calf and through the leg but are loose around the upper thigh and midsection. They have deep pockets (hello place to store nails and picture hangers while I'm hanging art!) and are made of a fabric that is so soft and yet, doesn't fade. Plus, it's sweat-wicking and has four way stretch (perfect for all that bending, lifting, climbing). But these beauties still keep their shape. You could easily swap out your staging day functional shoes for a pair of flats or even heels (the saleslady said people she knows do that!) and you are good to go for meetings with realtors or homeowners. Here's a link to what they look like on http://shop.lululemon.com/products/clothes-accessories/crops-yoga/Jet-Crop-Slim-Luxtreme?cc=0001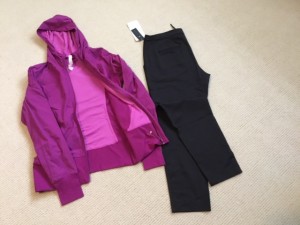 I also bought the In Flux Jacket ($128) above from Lululemon because it is sleek and fitted, hip length for more coverage and has a water-repelling exterior and a sweat-wicking soft interior with four-way stretch. Perfect for a hit of colour and to stay warm and dry on rainy days on the job.